Xenia
Talk

0
1,199pages on
this wiki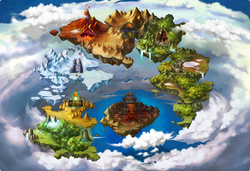 The Xenia Continent is the fourth continent of Grand Chase, the others being Bermesiah, Ellia, Silver Land, Alcubra, Archimedia, Frosland, and Trivia. It consists of eight dungeons with monsters in the fifties, sixties, and seventies.
This land is home to the Deities, but the whole land is falling under a new age of darkness.
Unlocking
Players must clear the Battle for Bermesiah in order to unlock Xenia.
Dungeons
The following dungeons are on the continent of Xenia, in order of appearance:

: Level 57-59 ▐ Crest: Frontier Legend


: Level 59-61 ▐ Crest: Nature's Messiah


: Level 61-63 ▐ Crest: Mynos Slayer


: Level 63-65 ▐ Crest: Keeper of the Flame


: Level 65-67 ▐ Crest: Warrior's Judgment


: Level 67-69 ▐ Crest: Fire and Brimstone


: Level 69-71 ▐ Crest: The Guardian of Life


: Level 73-75 ▐ Crest: Ascendant of Heavens

Trivia