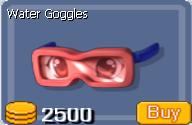 Water Goggles are a lower head accessory.
"Show off your fashion sense to your friends by wearing these gorgeous water goggles."
Level: 20
Attack: 0
Defense: 60
Vitality: 90
Though the eyes are clearly female in the goggles, these eyes do not change when worn by any male character, thus giving them female eyes.
Ad blocker interference detected!
Wikia is a free-to-use site that makes money from advertising. We have a modified experience for viewers using ad blockers

Wikia is not accessible if you've made further modifications. Remove the custom ad blocker rule(s) and the page will load as expected.