Tornado Caller Armor Set - Only obtainable during 6th Seal Breaker Gacha
Required Lv. 40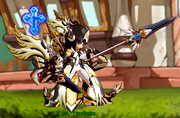 Obtained from 6th Seal Breaker Gacha
Sieghart:
Edit
Stats (Armor)
Helmet: 482 Defence
Upper Body: 562 Defence
Lower Body: 562 Defence
Gloves: 669 Attack
Boots: 401 Vitality
Cape: 535 Vitality
Weapon: 1873 Attack
Stats (Accessories)
Upper Head: 107 Defence, 161 Vitality
Upper Body: 134 Attack, 134 Defence
Lower Body: 107 Attack, 161 Vitality
Sheild: 187 Attack, 80 Vitality
Tornado Caller Big Head: 270 Defence, 270 Vitality
Stats will differ depending on the character you aquire the armor for.
The Wind / Tornado / Storm Caller armor was brought out before Dio, Zero, Ley, Rufus, Rin/Lin, Asin, Lime. As such they cannot get this armor.
Unlike the current Seal Breaker Gacha's, the 8th set and before all had Big Head armor peices instead of the lower head accessory.
The Big Head armor peices came in levels 5, 25 and 45 instead of 20,40 and 60. They were also character specific.
Ad blocker interference detected!
Wikia is a free-to-use site that makes money from advertising. We have a modified experience for viewers using ad blockers

Wikia is not accessible if you've made further modifications. Remove the custom ad blocker rule(s) and the page will load as expected.