Tiger Hawk Accessories are a set of accessories that are based off of hawks.
Tiger Hawk Head Wings
Edit
Upper Head
"A set of wings worn on the head that are designed after the mysterious hawks that dominnate the
Bermesiahn sky."Edit
Level: 5
Attack: 0
Defense: 30
Vitality: 45
Tiger Hawk Beak
Edit
Lower Head
Edit
"An extremely strong Tiger Hawk beak plated with a special alloy."
Stats[[cash|

]]Edit
Level: 5
Attack: 0
Defense: 45
Vitality: 30
Tiger Hawk Wings
Edit
Upper Armor Ornament
"Wings made of mysterious Tiger Hawk feathers that will make onlookers envious of you."
Level: 5
Attack: 38
Defense: 38
Vitality: 0
Tiger Hawk Talons
Edit
Arm Ornament
"Talons from a Tiger Hawk are quite efficient at protecting who ever wears them"
Level: 5
Attack: 53
Defense: 0
Vitality: 23
Tiger Hawk Tail
Edit
Lower Armor Onament
"
A majestic tail cut from a Tiger Hawk that makes its wearer looks more courageous.
"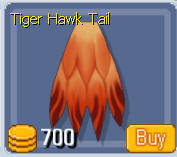 Level: 5
Attack: 30
Defense: 45
Vitality: 0
Ad blocker interference detected!
Wikia is a free-to-use site that makes money from advertising. We have a modified experience for viewers using ad blockers

Wikia is not accessible if you've made further modifications. Remove the custom ad blocker rule(s) and the page will load as expected.