Thunder Hammer Weapons
are a type of weapon that are found in Thunder Hammer (dungeon) at a low drop rate, or can be crafted in the create/dismantle option on the menu. It is said that they were crafted by Dwarf Artisans (craftmens; most likely blacksmiths) of the Dwarf Capital. These Items can be created for every character, except dio.
A [Weapon] crafted with care by the Dwarven Artisans of Thunder Hammer.
Required Lv. 75
Attack: 1960
Defense:0
Vitality: 0
ITEMS NEEDED TO CRAFT: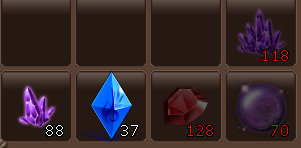 118 Concentrated Alcubrium
88 Alcubrium
37 Crystals
128 Refined Rubys
70 Archimedia's Prescious Pearls
750000GP
Ad blocker interference detected!
Wikia is a free-to-use site that makes money from advertising. We have a modified experience for viewers using ad blockers

Wikia is not accessible if you've made further modifications. Remove the custom ad blocker rule(s) and the page will load as expected.