The Sun Accessories are a set of accessories. They drop in the Ellia continent. As of Season V, only the Sun Shield may be crafted, and in Rare grade.
"Sun accessories made in the image of the fiery sun. Feel the power of the sun."
Sun Hair (Pre-Season V)
Edit
Level: 28
Attack: 0
Defense: 16
Vitality: 24
Sun Wings
Edit

Level: 28
Attack: 89
Defense: 89
Vitality: 0
Sun Shield
Edit

Level: 28
Attack: 124
Defense: 0
Vitality: 53
Crafting
Edit
The current crafting requirements for the Sun Shield is 120 Gems and 60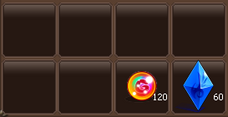 Crystals. This piece may be forged on the Ellia Continent map, as long as the character has access to that map. Accessory pieces may not be forged for other characters.
Ad blocker interference detected!
Wikia is a free-to-use site that makes money from advertising. We have a modified experience for viewers using ad blockers

Wikia is not accessible if you've made further modifications. Remove the custom ad blocker rule(s) and the page will load as expected.