A Socket Gem is a cash item needed to remove a card installed on a piece of armor. You will need more than of one these gems to remove a single card.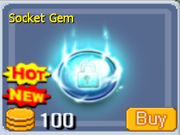 Each Socket Gem costs 100 cash each from the Shop.
They are also sold in groups of 10+1 (bonus of 1 Socket Gem) for 1000 cash and 30+3 (bonus of 3 Socket Gems) for 3000 cash.
The Socket Gem is also a Hero Item, where one Socket Gem costs three Hero's Bullions.
They can also be acquired in certain events.
Ad blocker interference detected!
Wikia is a free-to-use site that makes money from advertising. We have a modified experience for viewers using ad blockers

Wikia is not accessible if you've made further modifications. Remove the custom ad blocker rule(s) and the page will load as expected.