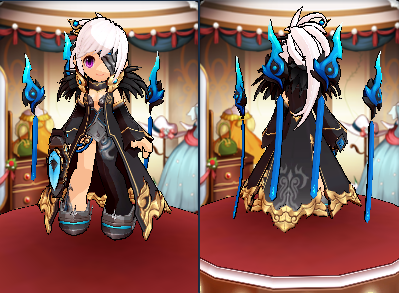 The
Raven Soul'
Set'
is a coordi fusion
seal breaker
set. This is one of the only coordi
fusion
sets to allow players to equip a
coordi
weapon. Required level is 0 for all items.
Unlocking all of the armor pieces grants players the coordi fusion weapon of their choice. The selected coordi will mask their current weapon. In order to appear in-game, the coordi fusion and equipped weapon types must match. However, equipping a different weapon type will not unequip the coordi weapon. The equipped weapon will show, and the coordi weapon will not.
Unlocking all of the accessory pieces in addition to the armor pieces grants players the relic grade pet, Raven.
All pieces are Relic grade, and come with two effects. Additionally, the player is awarded bonuses for equipping four or more Season V coordi pieces at the same time. The effect and stats for the Raven Soul coordi stack with the current armor and weapons that are equipped for that character.
Base Effects
Edit
Helmet
Critical Attack Chance +3.00%
Vitality +40
Upper Armor
Defense +50
Pet MP recovery increased by 2%
Lower Armor
Critical Attack Damage +3.00%
HP Recovery +4.00%
Gloves
Special Attack +85
Attack +40
Shoes
Defense +50
MP recovery +4.00%
Cloak
Upper Head
Vitality +40
Hell Spear +140
Lower Head
HP drain +140
Special Attack +85
Upper Armor Ornament
Lower Armor Ornament
All stats +17
HP Recovery +4.00%
Arm Ornament
Critical Attack Chance +3.00%
Speed increased by 2.20%
Weapon
All stats +25
Critical Attack Damage +3.00%