Perseo's Accessories are a set of accessories that were made by Perseo. Currently only the Stompers and Shields may be crafted, in Rare grade, from the Xenia map Forge menu.
"Incredibly durable accessories made from an unidentifiable mineral. Rumor has it that Perseo made them as protection for the woman he loves."
Crafting
Edit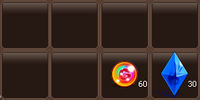 The crafting requirements are 60 Gems and 30 Crystals for each piece. The character forging the items must have access to the Xenia continent. Items forged are character-specific.
Level: 63
Perseo's Headress
Edit
Attack: 0
Defense: 142
Vitality: 213
Perseo's Shields
Edit
Attack: 229
Defense: 0
Vitality: 98
Perseo's Wings
Edit
Attack: 164
Defense: 164
Vitality: 0
Perseo's Stompers
Edit
Attack: 131
Defense: 197
Vitality: 0
Drop Locations
Edit
Ad blocker interference detected!
Wikia is a free-to-use site that makes money from advertising. We have a modified experience for viewers using ad blockers

Wikia is not accessible if you've made further modifications. Remove the custom ad blocker rule(s) and the page will load as expected.