The
Pearl of Persephone Earrings
are special ear accessories. They have similar properties (but not stats) to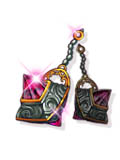 the
Soul Stealer Crest
. They can be obtained with 65
Hero's Bullions
. However, they are character specific.
A unique ability of the earrings is to create a special aura for a few seconds. The aura appears randomly, but only in Dungeons. When activated, a buff called "Hell's Strength" will take place, granting it's user Super Armor and an Attack Buff (x1.455 attack) for 17 seconds with a cooldown of 15.
Description
Edit
"Earrings made from a mineral mined from the Pearl of Persephone. Wearing them will activate Super Armor and increase attack at a set rate. You may not equip two sets of earrings from the same series."
Level: 55
Attack: 128
Defense: 128
Vitality: 130
Effect: HP + 15.00% in Dungeons
Effect: Special Attack Resistance + 15.00%
Effect: Increased PvP Spawn Invincibility + 15.00%
Effect: EXP + 5.00%
Ad blocker interference detected!
Wikia is a free-to-use site that makes money from advertising. We have a modified experience for viewers using ad blockers

Wikia is not accessible if you've made further modifications. Remove the custom ad blocker rule(s) and the page will load as expected.