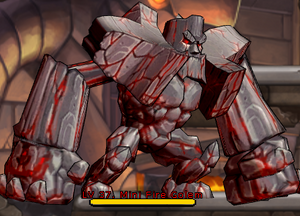 The Mini Fire Golem is alike to the Mini Golems, and appears only the Temple of Fire. They are well hunted for their Crystallized Spirits or Hearts for 3rd job changes.
Two attacks. The Mini Fire Golem has the attacks of other mini golems, except it cannot spin, being replaced by the ability to breath fire. The fire is similar to the Red Gorgos, except its shorter and smaller for obvious reasons.
Ad blocker interference detected!
Wikia is a free-to-use site that makes money from advertising. We have a modified experience for viewers using ad blockers

Wikia is not accessible if you've made further modifications. Remove the custom ad blocker rule(s) and the page will load as expected.