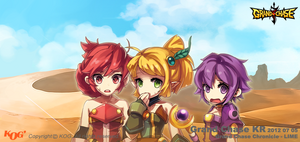 There is controversy as to where Lime encounters the Grand Chase. The background in Lime's introduction story suggests that she meets the Chase in a desert area, likely to be the Alcubra continent. However, one of her Brazilian articles claims that she meets the Chase in the Forgotten City.
Lime is No. 10 of the Twelve Disciples.
In Elsword, Lime is an Elven PvP NPC whom is a self-proclaimed "forest ranger". She fights with a bow, highly skilled martial arts with extended combos, and a grappling hook.
The idea to create Lime came into being when a KoG member was eating a lime, hence the name "Lime".
One of the reasons Lime was created was to fulfill the support role in Berkas' Lair.
In the Brazilian server of the game, Lime is named "Holy".
Like Asin, Lime originally had no plans of having a 2nd, 3rd, or 4th job.

However, with the addition of Saint, this claim is no longer standing.

Lime is the second Character to utilize the Action-Mana Point System prior to the Rebirth update.
Like Asin, Lime has no GP mission for every server.