Description
"Silver Knight's passionate fighter."
Main Info
Long ago on the Xenia Continent, in a tiny village park where the children of Silver Land would play, a red-headed boy would lead the other children while playing as their general. He soon caught the eye of the Silver Knights, and was admitted as a trainee. Strangely, Silver Land broke away from Xenia. As the Grand Chase pursued Kaze'aze and further into the homeland of the Silver Knights, they sought the courage of the Silver Knights with Jin.
Special Ability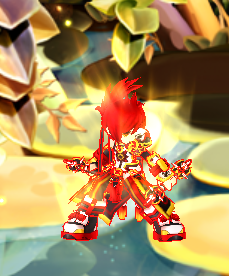 Burning Charge Bar
The Burning Charge is a special ability exclusive to Jin, who builds up his chi. The chi certain attacks or enhancing his skills, the latter requiring a full bar.
The bar generates in two ways. The first using the

command, while the other generates extremely few upon using a counterattack; Jin must not be fighting to execute the former. If chi is not used in any way within 5 seconds, Jin will lose chi. When the bar is completely filled, which takes approximately 5 seconds, 4 if Rama, Jin will enter a phase called Burning Mode, where he gains super armor (resistance to stun and knockdown effects), increased speed, and altered/enhanced skills for approximately 8 seconds.
Unlocking
Jin can be unlocked by purchasing a Mission scroll from the shop and completing its objectives.
"Silver Land is a beautiful continent that is a part of Xenia. Jin of the Silver Knights is fighting against the dark forces alone. Jin will be a positive asset to your team."
- Knight Master -

References