Harbinger
Talk

0
1,199pages on
this wiki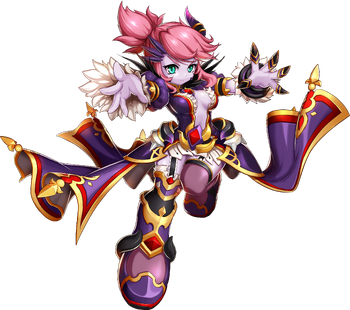 While searching high and low all over Bermesiah and Silver Land for Dio, Ley sensed a distortion coming from the direction of the farthest reaches of the world. Feeling that the distortion and Dio were somehow connected, Ley decided to go and investigate, believing that she would find Dio there.
Convinced that venturing into Aernas would help her definitively trace the source of the distortion, Ley unsealed the powers contained within the Ultima and summoned Bastion Mary. As the Harbinger, Ley can summon both Garouille and Bastion Mary.
Harbinger (or Darkbringer) can summon Bastion Mary who, unlike Garouille, can be controlled and the player can time her attacks. The improved AI allows for more successful fights. The all new jump and dash attacks serve to ameliorate the frustrations of running dungeons as a Summoner.
Requirements

It is necessary to be level twenty (20) to be able to participate in Second (2nd) Job Promotion.
GP
(Cost 10000 GP)
Part 1
Run the Marsh of Oblivion once. Even if you don't successfully pass the dungeon, you'll still complete the mission.

Entering the dungeon and leaving immediately does not count as "running". It only counts if the dungeon is completed or failed.
Part 2
Part 3
Part 4
Slay 100 monsters within the range of 2 above or below level monsters.
Cash
(Cost 2700 Cash)
Quotes
Game Start
Summoning
Skills
Taunt
| | | |
| --- | --- | --- |
| | | "Your moves are kinda bad..." |
Game End
| | | |
| --- | --- | --- |
| | | "Such a waste... And you had potential too." |
Skills
| Level/Type | Name | Effect |
| --- | --- | --- |
| LVL 4 Special | | Ley summons the giant, fiery eye "Hate" that snipes enemies across the map with quick, powerful bursts of condensed dark energy. |
Trivia
Bastion peeing

Added by

Meruna

While Bastion is summoned and Ley uses her taunt, Bastion will pee.
In the Korean server, Ley chants "To those who block my path, the chaotic darkness shall fall upon" before using Center of Gravity.