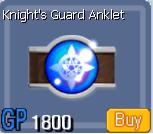 The Guard Anklet is a foot ornament accessory. It can be upgraded like Necklaces with Gems and can also break.
Note: Because there is no special effect, it is pointless to level it to up 9, as the ninth level would provide a visual effect rather than stats.
"A mystical anklet created by a Mage of Bermesiah. This increases Defense Strength."
Level: 0
Attack: 0
Defense: 60~350
Vitality: 0
Ad blocker interference detected!
Wikia is a free-to-use site that makes money from advertising. We have a modified experience for viewers using ad blockers

Wikia is not accessible if you've made further modifications. Remove the custom ad blocker rule(s) and the page will load as expected.