There have been various controversies in Grand Chase, mostly involving the game's staff and community.
Abyss Knight vs Battle Mage
Edit
Abyss Knight vs Battle Mage happened due to the Abyss Knight being announced and released three weeks before the Battle Mage in the North American server of Grand Chase. Many players, mostly those who favored Arme, were angered as they had believed that the Battle Mage would be released next, due to prior release history, in which Lire obtained her job after Elesis, and Arme obtained her job after Lire and so on. The release of the Abyss Knight before the Battle Mage also caused many players to believe that NtreeV (now GameRage), the company hosting the North American server, was showing favoritism towards Ronan, and neglecting characters. It took about a month for the war to die down.
Final Fantasy vs Grand Chase
Edit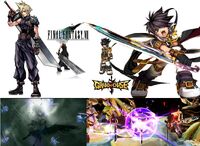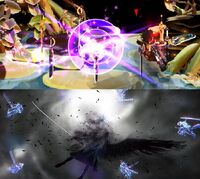 Final Fantasy vs Grand Chase is a controversy of Grand Chase bearing many similarities to other media, most notably Final Fantasy VII. It began when Prime Knight was released in the North American Grand Chase server. Many of the Grand Chase players who were fans of Final Fantasy VII were upset about the Prime Knight because it had numerous similarities that were based off of the hero of Final Fantasy VII, Cloud Strife, most notably Prime Knight's Unlimited Blade and Cloud Strife's Omnislash Version 5. People began interpreting the entire game of Grand Chase and realized that there are features Grand Chase possibly derived from the Final Fantasy series.
Similarities between Grand Chase and Final Fantasy:
Those who do not know Final Fantasy nor Cloud furiously argued with those who do know about the game and the character constantly. Most of the arguments are linked between Cloud and Sieghart. Some say Cloud was the one ripping off of Sieghart, though Final Fantasy VII was released in 1997 and the Prime Knight was released in 2010; 13 years after Final Fantasy VII's creation. Some also say that Sieghart is a better character than Cloud and can destroy him, and others defended Cloud by claiming that those who have seen the whole series of Final Fantasy VII would realize that Cloud is a better character. Those who favored Cloud even say that KoG Studios, the company who developed Grand Chase, is running out of ideas and began to rip off games such as Final Fantasy VII to use as their own ideas (which, based on the extremely long list of similarities, could possibly be true). The whole argument between Cloud and Sieghart lasted for about a month, but arguments about them tend to happen occasionally.
Naruto vs Grand Chase
Edit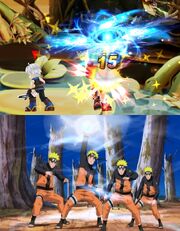 With the community aware of Grand Chase possibly mimicking the Final Fantasy series (see Final Fantasy vs Grand Chase above), further releases have linked Grand Chase to the popular Naruto series as well. Below are some examples.
Although this controversy is not as well-known as the Final Fantasy vs Grand Chase Controversy, many Naruto fans have argued against Grand Chase's mimicry.
Other Media vs Grand Chase
Edit
As seen with Final Fantasy vs Grand Chase and Naruto vs Grand Chase, Grand Chase has shown to copy some other media.
Storyline
Edit
Grand Chase has been noticed to have multiple loopholes. There are various plot holes and missing information which leads to players wondering about content that is not answered. Yet new questions arrive with new updates. Focus is implemented on new characters, but not unanswered questions.
As seen with Final Fantasy vs Grand Chase, Naruto vs Grand Chase, Other Media vs Grand Chase and Elsword, Grand Chase is known to copy some content from other media. The game can be cliché (however, keep in mind that this makes some of the original content it is based upon the same), along with inconsistencies within the plot.
Multiple Characters, as well as some important enemies lack a proper backstory that leaves many questions. Lire has absolutely no history of her, with her description only mentioning what her tribe has done in the past. The lack of details is more notable with Lass, whom was adopted by the Nightmare Circus and later rebelled against them for yet unknown reasons, and there are no details on his demon side, why and how Kaze'aze possessed him, and about his relationship with his half-brother, Rufus. Sieghart, Dio, Zero, Ley, and Rufus, who were born more than 600 years prior, do not have any information on what they did during those years. There is still no reason as to why Dio had attacked Sieghart 600 years prior. Dio's and Void's motives remain unknown. Most of Rufus, Rin, Asin and Lime remains a complete mystery as Rufus only appeared in dialogue thrice while the rest only appeared once. Ashtaroth also is somehow in possession of the Klara Libri and later lost it, turned Kaze'aze into a monster and helped her harness its powers, and later became Thanatos' right-hand man, with no explanation of why or how. Finally, every groups and guilds are lacking in information, only stating that a character originates from them and that they banded together to fight against evil.
Some information about the story is stated only on the Naver Blog and never in-game. The vast history behind Aernas' Creators, Kounat, the Aernas Hammer, Ashtaroth's treachery, Edna, Kaze'aze's history, Lass' relationship to the Nightmare Circus and the identity of his family members, Grandark and Eclipse's humanoid forms, Mari's origin, friends of the Grand Chase and so forth are only stated on the Naver Blog. The canonical events of Mari disappearing prior to Relics of Kounat and the Soul Stone transforming into the Aernas Hammer are never stated in-game.
The story also sometimes makes the Grand Chase appear dumbfounded. This is notable in Seth's Pyramid, where Barakhufu double-crosses them and steals their pieces of the Crown of Sands. The Chase could have been easily prepared for this, as they were betrayed by Victor and Elena and that Elesis also had a bad feeling about the goblin in Goblin Work Site. Also, Barakhufu fires a barrage of lightning at them; the Chase have been proven to either produce a defensive barrier or evade the attack, yet they do not do so. Finally, the Chase at that point consisted of ten god-rivaling warriors, yet they were easily deceived by an old man.
A very notable example of a poorly-made storyline is in Kounat's Collapse. Thunder Hammer establishes that many demons are pouring through, yet the only demons encountered in said dungeon are Drawl, Veron, and their clones. Zero, Ley, and Rufus mysteriously disappear between Wizard's Labyrinth and Kounat's Collapse even though Kassias Grandiel intended them to fight Ashtaroth as well as them having motives that revolve around the Grand Chase. After the whole battle is over, the Dwarves and Elves make peace for merely fighting a common enemy, something that is not only cliche but also overly simple and silly. Finally, Void, who engineered Ashtaroth's godhood by stealing the Deity Orbs from the Grand Chase and is severely antagonized by Zero's description, suddenly denies Ashtaroth the key to the Aernas Hammer, and the Chase immediately forget about Void's crimes and attack against them, with Dio even telling Arawn and Gilberta that Void isn't an enemy.
This controversy existed even during the production of the game, during the game's updates and progress, and is present today, even if not seen in-game often.
Grand Chase is also infamous for its Content, mostly directed toward concerns for fair gameplay and lack of challenging content.
The game is extremely notorious for its gameplay balancing for the characters. Lire, Arme, Amy, Zero, Ley, Rin and Lime are extremely overpowered in Dungeons and/or PvP, possessing the ability to disable and defeat any class from any distance and in just one hit, drain the target's health and mana, have absurdly powerful buffs and debuffs including evasion, regeneration, offense, and defense, and/or are relatively easy to play with and require no effort to use. For example:
Likewise, Lass, Ronan, Sieghart and Jin are gimped, with their Skill Trees severely lacking in abilities and/or notably weaker than their similar counterparts. For instance:
Although balance patches have been added, the overpowered characters remain potentially overpowered and the gimped characters' skill trees are unaltered.
Another notorious factor is the structure of monsters, which are extremely easy to fight against. Many enemies and bosses only have two or three attacks overall even at the higher levels which deal very low damage. They also have extremely poor artificial intelligence which makes them extremely easy to dodge and susceptible to attack before they notice a player. Thanks to Properties as well as the Hell Spear, they are fairly easy to dispatch; even in Champion Mode or the Hero Dungeons, they all take nothing more than a single skill to defeat them, and all bosses are not immune to debuffs, making them even more susceptible to annihilation; this is still achievable by the non-overpowered characters. Finally, many enemies have simply re-used attacks used by other enemies or characters, making them predictable. A notable example of a poorly made enemy is Ashtaroth, the game's primary antagonist. Most of his abilities are copies of those used by Ronan, Arme, Sieghart, and King Nasod (from Elsword). Magnus Dan also has some of Ashtaroth's abilities as well. In Kounat's Collapse, Ashtaroth's moveset only consists of four attacks in his first form, three attacks in his second form, and three attacks plus using them all simultaneously plus summons in his third and final form. Finally, Kassias Grandiel can also deploy a barrier that effortlessly blocks all of Ashtaroth's final form attacks.
This controversy continues to exist today due to the demand of balance and harder content.
Updates and Fillers
Edit
The Northern American Server of Grand Chase is known to produce "Fillers" (adding minor things to the game, mostly to keep the community busy) instead of "Updates" (adding major content). Many fillers are added in a row, angering the community, who claim that Ntreev (now GameRage), the company who published Grand Chase, has no care for their community and are falling behind in updates compared to other servers. Ntreev/GameRage's staff claims that KoG Studios, the company who developed Grand Chase, are the ones who file and order the updates for every other server.
Some claims of Ntreev/GameRage state that they will eventually patch up the Northern American Server. Despite this, community outbursts have been made, mostly due to the massive time and length wasted to update.
Even today, the community is tired and frustrated from the game's lack of updates. Either they update earlier than a holiday, or days after. Yet filler and reused events do occur.
Pay-to-Win
Edit
Grand Chase is well known for its "Pay-to-Win" style, meaning that players must actually pay K-Ching (real-life money, formerly known as Cash) in order to be one of the strongest and powerful. Ntreev (now GameRage), the company who published Grand Chase, was often nicknamed "Ngreed"/"GameRAGE" due to their selfishness as well as angering the community.
The pay-to-win is most obvious with the abundance of K-Ching Equipment and extremely scarce GP items in the shop, selectable Properties on K-Ching gear, Pets, SB Gacha relic equipment and pets, Extreme Skill Keys (notably for the alternate 4th MP grade skills, which can be unlocked only by this key), Skill Tree Keys, Property Resets, Normal and SB Coordishop sets, and Reinforcement Scrolls. Loading and spending K-Ching guarantees perfect and high quality items.
Another angering event with pay-to-win is with the release of Asin and the Action-Mana Point System. It was announced that their GP missions were temporary, meaning that once the event is over, the GP missions will be removed and thus must be Cashed. The community was so outraged that GameRage decided to make the AMP System GP Missions permanent.
Furthermore, the advent of Character Separation / Season V changed character creation for the worse. Although players no longer need to complete mission to unlock a character, the creation is changed to selecting a character in a slot, a choice that is irreversible. However, there are only four slots by default; expansions require Character Slot Tickets which is only available through K-Ching or events. This severely limits players from playing the many characters.
However, the K-Ching equipment controversy is being ameliorated: Season V changed all GP equipment in the shop as Rare items (with a slight chance to get an Epic version of the equipment). Also, the strongest armor is the True Iron Dragon Set, which is attainable by repeated dungeoning; K-Ching cannot hasten this process, as one cannot buy Hero Tokens or Demon Cores with it.
Nevertheless, players are still angered by the greed of the companies and how they try to milk real-life money off their players.
Ntreev (now GameRage), the company that hosts the Northern American Server of Grand Chase is known for their Staff, who at times even fail to acknowledge or even ignore players, fail to properly maintenance the game, and delay updates (see Updates and Fillers).
The staff is known to merely disregard players whatsoever and fail to acknowledge their questions. An example of this is the Suggestions section in the Forums, where players provide ideas to improve the game, in which the staff merely ignores and does not put their input on it, leaving anything in the Suggestions section unimplemented. Another example is 1:1 Support, where players file help to a GM on questions or problems they encounter in the game, but responses range from quick, awhile, to a long time (years even). They seem to be choosy depending on what the person talks like and asks for.
There are also various text errors, outdated information, and a lack of description, in the game and on the main website. For example, in Skill Trees as well as the old Practice Mode Season 3 Short Descriptions, the descriptions and details are usually vague or even incorrect. The Grand Chase Northern American Website also has absolutely no information on Skill Trees as well as lackluster descriptions on character and skills.
A more prominent example of this is in Wizard's Labyrinth, and Seth's Pyramid, Kounat's Collapse and Berkas' Lair; Wizard's Labyrinth possesses several translation errors and the first release of Seth's Pyramid, Kounat's Collapse and Berkas' Lair contains an extremely horrendous dialogue filled with multiple translation and text errors along with horrible grammar; many character names and words were spelled wrong, and various words and punctuations were used incorrectly.
Many glitches and bugs occur within the game as well. Some are usually serious and may even hamper a character's performance to properly fight. However, the staff often fails to fix them, and sometimes take years to do so.
External Links
Edit
GM Loki explaining the reason why Abyss Knight was released before Battle Mage
The announcement of Action-Mana Point GP missions being temporary
Ad blocker interference detected!
Wikia is a free-to-use site that makes money from advertising. We have a modified experience for viewers using ad blockers

Wikia is not accessible if you've made further modifications. Remove the custom ad blocker rule(s) and the page will load as expected.