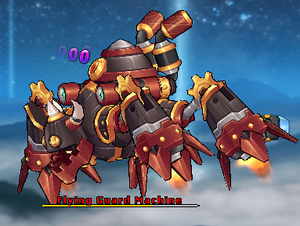 The
Flying Guard Machine
is a
Spiderbot Guard
mounted with four propellers at its legs. This mini boss appears in
Talin's Revenge
. It will move up to the edge of the screen and then go back down.
Triple Purple Shot: The Flying Guard Machine shoots 3 lines of purple bullets in a "<<<" formation. As the bullets travel further, they spread from each other, permitting the player to dodge them.
Flamethrower: The Flying Guard Machine will shoot a line of flame from its mouth, and also it will move up and down slowly. It does this attack after it performed 4 triple purple shots.
Ad blocker interference detected!
Wikia is a free-to-use site that makes money from advertising. We have a modified experience for viewers using ad blockers

Wikia is not accessible if you've made further modifications. Remove the custom ad blocker rule(s) and the page will load as expected.