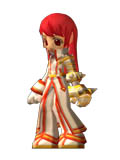 ---
The Elysion Armor Set is a rare armor set found in dungeons. The Elysion armor set has been given out as a 'Timed' armor set multiple times during events. The Elysion armor set has a level requirement of 40.
---
The Elysion Armor Set can be found in Hell Bridge, Kaze'aze's Castle, Kastulle Ruins Lower Floor, Kastulle Ruins Upper Floor and in Battle for Bermesiah
As of Chaos Patch, players are unable to acquire the Elysion armour set
Ad blocker interference detected!
Wikia is a free-to-use site that makes money from advertising. We have a modified experience for viewers using ad blockers

Wikia is not accessible if you've made further modifications. Remove the custom ad blocker rule(s) and the page will load as expected.