The List of other Grand Chase characters seen or mentioned throughout the game or the storyline.
Bermesiahn monarchs
Edit
The Queen of SerdinEdit
Main article: Serdin
Main article: Kanavan
General Esnar Din Kanavan and Mage Scarde Vi Serdin were the founders of the two kingdoms of Bermesiah. They were also the commanders for the human survivors of the Kounat incident in search of a continent for them to live. The founders were also the ancestors of Queen Enna and Queen Anyu, the current rulers of the two kingdoms.
After the founding of the Kanavan Kingdom, King Kanavan sent his brother and Mage Serdin to organized a separate army to explore southwestern part of Bermesiah. After their long journey and have found a proper land to established, the King Kanavan unfortunately died during the trip, thus making Mage Serdin established the found land as Serdin Kingdom.[1]
Sieghart family
Edit
Eckhart Sieghart
Edit
Eckhart Sieghart is the first ancestor of the whole Sieghart family. After rejecting the top position given to him by King Kanavan and left the palace, he became the leader of the Ruby Knights. His name is only mentioned in a post on KOG's NAVER blog.[1]
Eckhart is not to be confused with the playable character Ercnard Sieghart.
Elscud Sieghart
Edit
Main article: Elscud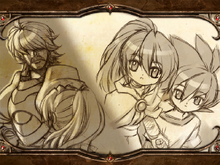 Elsword Sieghart
Edit
For the other game also developed by KOG, see Elsword.
Elsword is Elesis' younger brother. His name and appearances resembles another playable character from the game of the same name. Nothing much known about this character, as he is only mentioned in a post on Grand Chase's NAVER Blog.
Penelope Sieghart
Edit
Penelope is Elesis' mother and Elscud's wife, currently nothing is know about her at the time. She is only mentioned in a post on Grand Chase's NAVER Blog.
References
Edit
Ad blocker interference detected!
Wikia is a free-to-use site that makes money from advertising. We have a modified experience for viewers using ad blockers

Wikia is not accessible if you've made further modifications. Remove the custom ad blocker rule(s) and the page will load as expected.