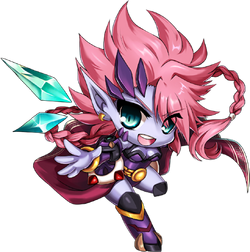 Edna Vervidad
[1]
or
Edna
is a demon, specifically an Asmodian much like
Dio
,
Ley
, and
Void
. She is an ally to Void and possibly love interest, and the one who during the demon wars saved Void from his death by sacrificing her own life.
It is said that Void is looking for a way to revive Edna. It is also stated that Ley is the reincarnation of Edna.
According to Naver Blog, Ley suffered from a disease and her father searched for Oz, who was the only one who could cure her. Oz conducted a ritual that snatched Edna's soul just as it was passing into the Underworld, leading to her rebirth.
Further evidence that Ley is the reincarnation of Edna can be seen in their appearance: both have the same colored eyes, hair, outfit, and even the same horns in the same position. The mark on Edna's chest can also be seen on Ley's back.
Like Void, there is a chibi variant pet of Edna.
References
Edit
Ad blocker interference detected!
Wikia is a free-to-use site that makes money from advertising. We have a modified experience for viewers using ad blockers

Wikia is not accessible if you've made further modifications. Remove the custom ad blocker rule(s) and the page will load as expected.