Description
"Burning Canyon's strongest stygian."
Main Info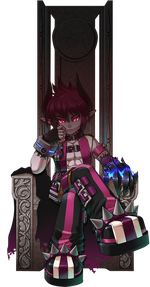 Name: Dio Burning Canyon
Age: Unknown (Looks 18)
Hobbies: Tinkering with Soul Reaver[1]
In the final days of Kounat's existence, numerous portals appeared around the kingdom, gateways leading to another dimension where belligerent demons lived. A faction of the demons desired to destroy Kounat and waged war against the suffering kingdom. However, an opposing faction of demons denounced the wanton violence and waged war against those demons that would destroy Kounat. Dio was a member of this faction.
When the war ended, the demons returned to their dimension and the portals were sealed. One day, Dio realized there was a weakening of the magic sealing off one of the portals and decided to go and investigate. This decision set him on the road to one day meeting the knights of the Grand Chase.
Personality
Dio has a great sense of pride and takes matters from a selfish perspective in a serious manner. Such actions are hard to understand from a human point of view, but it is easier to comprehend if one thinks of him to have a completely opposite perspective from normal human moral standards.
Special Ability
Action Point System

Unlike every other character, every Demon character (Dio, Zero, Ley, Rufus, and Veigas) have a function called "Action Point" (sometimes called "Ability Power" and abbreviated as AP) that masks over skills and some regular attacks; basically replacing Mana Points. Utilizing the Skill Tree, AP characters are capable of using up to five different abilities, whether it be lethal skills or simple techniques. Unlike MP, an AP character's skills and techniques are activated through the press of a button, rather than charging up to use a skill.
On the bottom center of the screen, the five skills will light up. This means that they are ready for use. The command interface with AP uses

,

,

,

, and

. However, this makes Pet Attack to 16px and Taunt to

.
Unlike other characters, AP characters do not gain the newfound energy by hitting enemies, but rather, waiting out. However, since it is still technically Mana-based, it will absorb Mana fluids from potions, items, and armor properties.
If an AP character receives a Counterattack, however, all the abilities are given a maximum 10 second cooldown. This can be reduced by a few seconds via Reduced Counterattack Cooldown Time, though not all AP characters possess this.
Rin, Asin, Lime, and Edel use the hybrid Action-Mana Point System. They have an MP bar instead of an AP bar and can use their skills by charging, but can also have up to five abilities which can include techniques.
Job Stacking
As Dio, Zero, Ley, Rufus, Rin, Asin, Lime, Edel, and Veigas advances more and more, they grow stronger and more lethal. However, they are unable to revert back to previous jobs, as all of them technically are as one. As demons absorb more power, they can use later job abilities and yet retain their previous ones as well.
According to the profiles of Drakar and Leviathan, it says that Dio sealed most of his powers, thus eventually restoring them in the future. This explains how and why he can "job stack".
Dio's Rake Hand notably transforms as he gets his strength boosts.
Unlocking
Dio can be unlocked by purchasing a Mission scroll from the shop and completing its objective.
Note: After unlocking Dio, he will automatically be level 30, and therefore, but cannot immediately start his second job, as it requires level 35. He will also automatically have 10 SP to use.
"Oh, how do I start. He is the most popular figure of the Underworld. Though he cannot return to his home. But should he return, are you ready to welcome him back?"
- Alfred -

References