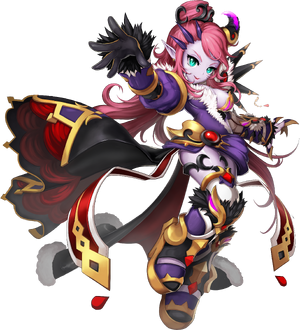 Dio was becoming stronger and Ley was convinced that she would locate him on Archimedia. Ley followed her hellish Asmodian puppy, Bastion Mary, and suddenly, Ley found herself teleported to a dimension of some sort of ghostly magic. Ley felt the anger growing in her chest. Who would dare take away time from her journey when she is so close to concluding it? None other than Kassias Grandiel, the mysterious elf who had survived the destruction of Kounat, determined to defeat his former friend Baldinar, now known as Ashtaroth.
Grandiel knew the heroes of the Grand Chase were no match against the new powers of Ashtaroth. Grandiel used his spiritual magic to create an illusionary dimension and named it Wizard's Labyrinth. To Grandiel, Ley and Zero, although directly involved with the Chase, were not known as allies or enemies, which is why he had led Ley to the Wizard's Labyrinth.
Faced with new and formidable enemies, Jeeves, Ley's butler, saw no other alternative but to free his powers that have been sealed inside the Ultima when he entered Aernas beside his mistress. But in doing so, he released all the powers of darkness that were sealed in the glove, leading the Ultima trying to dominate its user. Luckily for Ley, her body was possessed by two spirits and, with the help of the soul of Edna, she overcame the darkness.
Ley has finally reached her full potential, turning into a true Dark Matriarch, able to use more powerful spells and achieving mastery in her summons. Jeeves is stronger and is now able to fight alongside his master too. With the help of Zero, Ley and Jeeves finally managed to defeat their enemies and continue their journey through the tower. Soon, Ley would finally be reunited with her old childhood friend, Dio, and would join the Grand Chase alongside Zero.
Requirements
Edit
It is necessary to be lvl 60 to participate in the 4th Job Promotion.
(Cost 18,000 GP)
Slay 350 monsters within the range of ± 2 above or below level monsters.
(Cost 11,800 Cash)
Game Start
| | | |
| --- | --- | --- |
| | | "Jeeves, I'll be back before the tea gets cold." |
Summoning
Skills
Taunt
| | | |
| --- | --- | --- |
| | | "Jeeves, isn't it time for tea?" |
Game End
| | | |
| --- | --- | --- |
| | | "Jeeves, throw out this piece of trash." |
| Level/Type | Name | Effect |
| --- | --- | --- |
| LVL 4 Special | | Ley summons the giant, fiery eye "Hate" that snipes enemies across the map with quick, powerful bursts of condensed dark energy. |
| LVL 4 Special | Mortality | Ley shoots a small orb that implodes into a huge, dark explosion on contact or at the climax of its travel. Any opponent surviving the initial blast will be marked with a purple symbol, which will detonate after a short period of time. |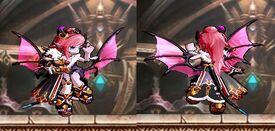 Dark Matriarch is also known as Dark Origin, Empress of Darkness, Void Empress, or Demonologist in foreign servers.
As Dark Matriarch, Ley becomes able to summon Jeeves to fight for her, much like she does with Garouille, Bastion, and Haunt. When summoned this way, an imposter Jeeves with a paper bag over his head will substitute the real Jeeves when Ley uses any skill, such as Jeeves Etiquette or Jeeves Power Bomb, that requires Jeeves's presence.
Like Dio, Ley unfurls her wings and swings her tail when idle.
Ad blocker interference detected!
Wikia is a free-to-use site that makes money from advertising. We have a modified experience for viewers using ad blockers

Wikia is not accessible if you've made further modifications. Remove the custom ad blocker rule(s) and the page will load as expected.