The Claw Shrimp is a monster found in the Silver Land dungeon, Lake Aurora. It somewhat resembles the Armored Lobster of Partusay's Sea.

They also have an
Emerald
counterpart.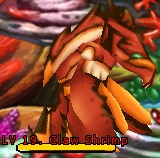 Attacks
The Claw Shrimp has both melee and ranged attacks. Its melee attack throws players skyward, while its ranged attack is a little blue projectile launched horizontally. The range of the projectile is indefinite.
Ad blocker interference detected!
Wikia is a free-to-use site that makes money from advertising. We have a modified experience for viewers using ad blockers

Wikia is not accessible if you've made further modifications. Remove the custom ad blocker rule(s) and the page will load as expected.