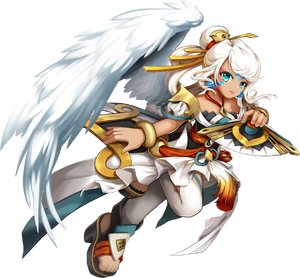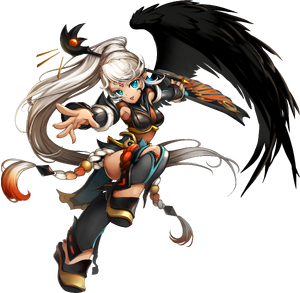 Chaotic (Ara for Korea, Theion in Philippines, and Luna for Indonesia) is Rin's 3rd job. It was released in the Brazilian server on November 27th, 2012.
Another entity arises within Rin as she approaches Kounat in the land of Archimedia, and this other self lures Rin's mind into the deep darkness. This causes chaos and confusion within Rin, and she ends up getting caught by the hands of disaster that had been chasing her persistently. When she's at risk, the other force within explodes uncontrollably and fights off all pursuers.
On the other hand, the Grand Chase sense a very strong force of evil while they were closing the dimensional portals in Kounat, assumes that another dimensional portal has been opened and heads that way. When they arrive, they meet a girl standing alone in the middle of a now deserted ruins.
With the powers of light and darkness dying to win and for release in a chaotic sequence, Rin now seeks to understand the latest developments from her dividing powers, and her skills get stronger as a result. Both the skill trees of the Light path and the Dark path receive 10 more skills, and every two levels, the Chaotic learns a new technique. The choice made by Rin as an Awakened will dictate the rules from now onwards.
Requirements
Edit
It is necessary to be level forty (40) to be able to participate in Third (3rd) Job Promotion.
Slay 180 monsters within the range of ± 2 above or below level monsters.
Game Start
| | | |
| --- | --- | --- |
| | | "Well then, shall we begin?" |
Skills
Taunt
| | | |
| --- | --- | --- |
| | | "How about just giving up now?" |
Game End
| | | |
| --- | --- | --- |
| | | "I don't want anymore people to disappear..." |
Game Start
| | | |
| --- | --- | --- |
| | | "Destruction is also a new start." |
Skills
Taunt
| | | |
| --- | --- | --- |
| | | "Today is a good day for destruction." |
Game End
| | | |
| --- | --- | --- |
| | | "Hahahaha! I'm finally released from this stifling seal." |
| Level/Type | Name | Effect |
| --- | --- | --- |
| LVL 4 Special | | Rin leaps into the air and lifts her fan, summoning 8 spheres of energy similar to Ley's Secret Passage and firing them. Upon contact with the enemy, the spheres explode and disperse into even more spheres that fly from the point of their origin across the map. 4 spheres then ricochet back, also exploding and dispersing if they make contact. |
Theion is the Greek word for "divine".
Chaotic is the second class not to be released first in the Korean server when it came out.
Chaotic was released without a pre-event in the North American server.
Chaotic's job advancement is the only one to reward fusion accesories with its completion.
Ad blocker interference detected!
Wikia is a free-to-use site that makes money from advertising. We have a modified experience for viewers using ad blockers

Wikia is not accessible if you've made further modifications. Remove the custom ad blocker rule(s) and the page will load as expected.