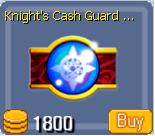 Cash Guard Anklet is a foot ornament accessory. It can be upgraded like Necklaces with Gems. At higher levels, blue runes will circle the character. The higher the level, the more runes that will appear. Unlike the GP version, the Cash Guard Anklet cannot break.
"[1st Job's Name]'s Anklet endowed with the power of Guardian, the Tutelary Fairy. This item can be reinforced."
Level: 0
Attack: 0
Defense: 80~400
Vitality: 0
Ad blocker interference detected!
Wikia is a free-to-use site that makes money from advertising. We have a modified experience for viewers using ad blockers

Wikia is not accessible if you've made further modifications. Remove the custom ad blocker rule(s) and the page will load as expected.