Aron Armor Set - Required Lv. 63
Pieces to the Aron Armor Set can be obtained by running the Wyrm's Maw, Altar of Judgement, or by crafting. Crafted pieces can be made as either Rare or Epic grade. Dungeons may drop either grade. The corresponding weapon for this set is Sethek. Base stats will vary, according to character.
This armor set is rare, and grants each character bonuses for having four or more pieces equipped at once.
4 Piece Bonus - Exp +16.60%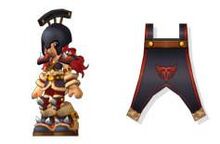 5 Piece Bonus - GP +26.60%
6 Piece Bonus - Critical Attack Chance +3.24%
7 Piece Bonus - HP Recovery +11.00% and MP Recovery +11.00%
Once worn by Aron the Invincible Thunder Bolt, captain of the guard of the Altar of Judgement.Wearing this makes you feel invincible.
Helmet: Defense 510
Upper Armor: Defense 595
Lower Armor: Defense 595
Gloves: Attack 1020
Boots: Vitality 680
Cloak: Vitality
Weapon: Attack 2380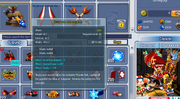 Helmet: Defense 459
Upper Armor: Defense 536
Lower Armor: Defense 536
Gloves: Attack 1190
Boots: Vitality 680
Cloak: Vitality
Weapon: Attack 2380
Helmet: Defense 612
Upper Armor: Defense 714
Lower Armor: Defense 714
Gloves: Attack 850
Boots: Vitality 510
Cloak: Vitality
Weapon: Attack 2380
This Armor set is modeled after Aron, the mini boss of the Altar of Judgment.
Ad blocker interference detected!
Wikia is a free-to-use site that makes money from advertising. We have a modified experience for viewers using ad blockers

Wikia is not accessible if you've made further modifications. Remove the custom ad blocker rule(s) and the page will load as expected.