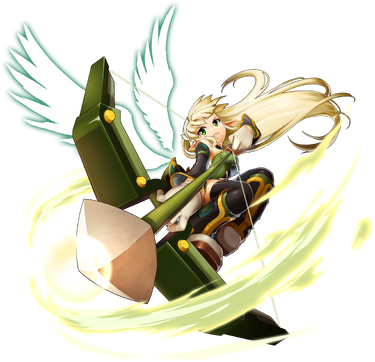 As the Bermesiah Continent continues to suffer from the war between the humans and the forces of darkness, the Elves created a special bow made of Innadril scales passed on from their ancestors with the hope of returning peace to the continent. Only the best archers were allowed to use the bow. These elite archers are known as Arch Rangers.
Arch Rangers wield a powerful giant bow with an advanced design that enables dynamic arrow attacks that fire at incredibly high speeds.
Requirements
It is necessary to be level thirty (30) to be able to participate in Third (3rd) Job Promotion.
"Do you by chance know Innadril? She's the ocean goddess who protects us Elves. We can make the best bow out of the scales she left behind. But if you acquire some missing supplies, we'll give you a fine gift."
- Elf Elder -
GP Mission
(10,000 GP)
Part 1
Run the Ruins of the Silver Knights once. Even if you

don't successfully pass the dungeon, you'll still complete the mission.

Entering the dungeon and leaving immediately does not count as "running". It only counts if the dungeon is completed or failed.
Part 2
Part 3
Part 4
Slay 120 monsters within the range of ± 2 above or below level monsters.
Part 5
(8,600 Cash)
Quotes
Game Start
Skills
Taunt
Game End
| | | |
| --- | --- | --- |
| | | "I was going to take it easy, but, oh well!" |
Basic Movements
Keystrokes
Name
Effect
Basic Combo
Lire fires three individual arrows. At the beginning of the combo, she can aim using the or keys.
++
Critical Attack
In the middle of her combo, Lire slides in one direction while firing an arrow to the opposite direction.
++
Double Attack
At the end of her combo, Lire slides in one direction while firing an arrow to the opposite direction.
++
Double Attack (Up)
At the end of her combo, Lire sweeps with her bow, knocking targets upward.
++
Double Attack (Down)
At the end of her combo, Lire stabs the target with her giant arrow.
+
Jump Attack
Lire jumps up and fires an arrow that arcs downward.
++
Jump Attack (Up)
Lire jumps up and swings her giant arrow upward.
+++
Jump Attack (Down)
Lire jumps up and fires two individual arrows straight down to the ground.
Dash
Lire dashes forward. Holding down the key causes her to run.
+
Air Dash
After jumping, Lire dashes in midair.
+
Dash Attack
While dashing, Lire fires in the opposite direction.
+(Pause)+
Dash Attack 2
While dashing, Lire sweeps with her bow, knocking targets upward.
+
Grab
Lire stabs the target with her giant arrow.
(Note: Both players are invincible throughout the animation.)
(Note: Only works in PvP; Dungeon monsters cannot be grabbed.)
(Note: Due to lag, it may not work, or may intercept the opponent's attack/skill.)
Skills
Level/Type
Name
Effect
LVL 1 Basic


Hyper Shot

Lire fires a long arrow that travels across an infinite horizontal distance while passing through any target.
LVL 2 Basic


White Wind

Lire performs a whirlwind attack by rapidly spinning using her bow as a melee weapon. Can move with and keys.
LVL 3 Basic


Chakra

Lire shoots mighty arrows into the sky which rain back downward simultaneously on her sides that deals heavy damage on impact. Unlike Arrow Rain, they do not damage on the way up.
LVL 4 Special


Big Shot

Not to be confused with the Archer's Big Shot.

Lire fires a long, horizontal arrow that drags her target along with it as it traverses the length of the map, dealing damage over time. The arrow then explodes, dealing damage to those caught in the explosion. In Dungeons, the arrow explodes upon hitting the first enemy it comes in contact with.
Trivia
Innadril (whose scales make up the Great Bow) is the ocean goddess that protects the elves.
The Arch Ranger's trailer voice actor said "White Wind" in a more high-pitched tone than the one in-game.
Interestingly yet unusually enough, the Arch Ranger's images portrays Lire's hair as white or yellowish-white unlike her usual blonde color. It's even stranger that it reverts back to blonde upon her advancement to Nova.
Strangely, Lire as Arch Ranger is not hindered in speed despite the heavy weight of the Great Bow and her large Arrows. Ironically, Elesis's Sword Master class, also bearing the heavy Giant Sword, is actually slower than the Arch Ranger, despite the fact that Elesis is physically stronger than Lire.
Ad blocker interference detected!
Wikia is a free-to-use site that makes money from advertising. We have a modified experience for viewers using ad blockers

Wikia is not accessible if you've made further modifications. Remove the custom ad blocker rule(s) and the page will load as expected.