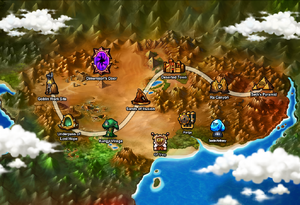 Alcubra, also known as Atum is a region in Ellia and precedes Archimedia. Though mainly a desert-esque region, the southwest area of Alcubra is forested and teeming with plant life. This is one of the few regions where all dungeons have a platform map.
On their way to Archimedia, the Chase land ashore on Alcubra. There, they learn that the continent houses a mysterious artifact: the Crown of Sands, and are prompted to find it.
Unlocking
Players must complete the Fortress of Ascension in order to unlock this region.
Dungeons
The following dungeons are on the continent of Alcubra, in order of appearance:

: Level 73-75 ▐ Crest: Desert Eagle


: Level 75-77 ▐ Crest: Spelunker


: Level 77-79 ▐ Crest: Kungji Kungji


: Level 79-81 ▐ Crest: Illusion of Grandeur


: Level 81-83 ▐ Crest: Scorpion King


: Level 83-85 ▐ Crest: Desert Storm


: Level 85-87 ▐ Crest: Horus' Blessing

Seize the Dragon Heart
Locations
Trivia
Ad blocker interference detected!
Wikia is a free-to-use site that makes money from advertising. We have a modified experience for viewers using ad blockers

Wikia is not accessible if you've made further modifications. Remove the custom ad blocker rule(s) and the page will load as expected.